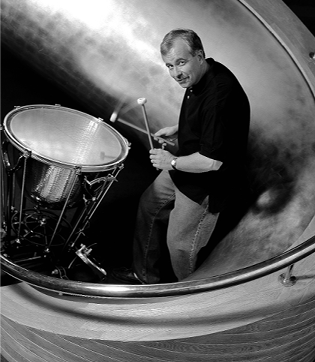 Welcher: Timpani Concerto
Reviews:
Symphony turns spotlight on duo
Violinist Braus, timpanist Brown shine as soloists
By Edward Reichel
Deseret Morning News
...The symphony's principal timpanist, George Brown, was the evening's second soloist. He had the distinction of premiering a new work by the American composer Dan Welcher. Welcher's Concerto for Timpani was commissioned by Utah Symphony & Opera and written expressly for Brown.
Concertos for timpani are decidedly a rarity, owing in part to the challenge of writing a work for an instrument of limited possibilities. However, Welcher overcame these difficulties and created a work that casts the timpani in a new light.
From the rhythmic vitality of the opening movement to the mellow tenderness of the second and the lilting flow of the finale, Welcher's concerto is a study in lyricism.
Brown gave a bravura performance, obviously enjoying the music and being in the spotlight. He was impressive with his flawless execution and delivery...
Soloist show's off timpani's range at Abravanel Hall
By Catherine Reese Newton
The Salt Lake Tribune
It's got a good beat and you can dance to it.
A would-be hit on "American Bandstand?" No, that seal of approval goes to Dan Welcher's Timpani Concerto, which the Utah Symphony and Timpanist George Brown premiered Friday in Abravanel Hall. The Timpani may be the last thing that comes to mind as a solo instrument, yet it would be hard to name a more appealing new concerto for any other instrument than this one.
The concerto lets the soloist show off an amazing tonal and dynamic range. Its three movements - "Marching" - "Mourning" and "Dancing" - reflect the contexts in which the instrument is often heard.
"Marching" opened with a martial tune for timpani, moving to a more stately tread that evoked an approaching army. Welcher threw in a brief quote from "Rule Britannia" for fun. In "Mourning," serene strings played the main melody with Brown playing a countermelody. Various orchestra members, including Concertmaster Ralph Matson and Harpist Louise Vickerman, also took turns with the melody - which was not particularly mournful. Sheer joy reigned in the finale; Brown's undisguised enthusiasm always made him one of the more engaging orchestra members to watch, and one couldn't help grinning along as he played a series of dances with a variety of sticks. The concerto's end brought Welcher a bear hug from Brown and an unusually hearty ovation from the audience...
---
Background on the project:
The Utah Symphony Orchestra and its Principal Timpanist, George Brown, are pleased and excited to announce the commissioning of internationally acclaimed composer, Dan Welcher, to create a new Concerto for Timpani and Orchestra. Work has now begun on the project, which Utah Symphony Music Director, Keith Lockhart, has scheduled for World Premier on October 8th & 9th of 2004.

"The idea of commissioning a new concerto has been on my mind since quite early in my career," Brown says. "Like many timpanists I had been rather disheartened by the scarcity of good contemporary literature for solo timpani and orchestra. By 'good' I mean works that, although challenging, are nevertheless musically satisfying to prepare and perform, for both soloist and orchestra alike - while also being accessible to the sensibilities of the audience. There are painfully few contemporary concertos available to the Timpanist, with the number of quality works smaller still, although fortunately, that has been slowly changing of late. My intention was to select a composer to create a work that Timpanists would enjoy performing and orchestras would also enjoy preparing. In addition, simply leaving the listener 'dazzled' by the performer's technique and ability was not enough. I wanted a composer experienced in creating concertos and whose works had a proven track record of 'connecting' with the audience. After many years of performing and hearing the output of many working composers, Dan Welcher emerged as an obvious, and an easy choice for this concerto."

In addition to a close working collaboration between composer and soloist in the creation of the concerto, other features are presently planned into the work to further diversify its appeal & possibilities for performances. Principally, the concerto's first movement will be scored solely for winds, brass & percussion and will be of sufficient length for performance as a stand-alone concertpiece for Band or Wind Ensemble. (Full orchestra will accompany the rest of the work.) Finally, as a matter of logistics the solo part will call for only five timpani, facilitating the soloist's ability to perform on a quality, matched set of instruments.

Although originally conceived by Brown, Keith Lockhart and the Utah Symphony Management enthusiastically signed on to the commissioning project. Currently the Orchestra is in process of building a consortium of ensembles (both orchestras and bands) to share in the premier and funding of this exciting new addition to the timpani concerto literature. Timpanists currently interested in participating in the consortium of this World Premiere (if affiliated with an orchestra, band or wind ensemble that conceivably might share their interest) are encouraged to contact George Brown at georgebrown9@comcast.net as well as Utah Symphony Artistic Administrator: Jeff Bram (jbram@utahsymphonyopera.org), (tel. 801-869-9005).


Information on Dan Welcher.

Information on George Brown.

For recent newspaper articles, check out:

http://deseretnews.com/dn/view/0,1249,595095208,00.html
---
Back to Tafoya webpage.