Hinger - Light Retrofit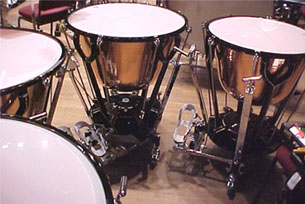 The unique design of the Hinger timpani frame allows the top part of the drum to spin; eliminating the need to reposition the head when putting on a new head and determining the desired beating spot.
The retrofit essentially increases the size and range of each drum. The bowl change (original Hinger bowls replaced by Light semi-flat bottom bowls) creates an exceptional, dark and focused sound.
After consulting with Marshall E. Light, owner of American Drum Manufacturing Company, we did the following:
Examined and determined allowable "play" in the frame - movement between the circular plate and the bottom frame. The plates were machined to guarantee flatness. The "play" was also corrected - the instruments are now perfectly centered (but still rotate).

All lugs/spiders and tension rods were adjusted and straightened.

New (Light) pedals were fabricated. Pedal bars and appropriate hole patterns in pedals etc. and new (Light) ratchet bars were installed. Marshall also designed a pedal locking system similar to the Light timpani - you are able to lock down the pedals to prevent them from slipping while in transit.

Light double-transfer bars (2 on each drum vs. the original 1 on Hinger set), cranks, etc. were installed. This retrofit produced a FREE and easy flowing pedal. Unlike the original Hinger pedals, there is NO stiffness in the high range.

Tuning gauges and fine tuner guides were adjusted (and re-chromed) to make sure the timpani bowl (new - bigger bowls) were still able to spin. The 32" drum was a bit tricky here - to spin this drum, I have to disengage the tuning indicator rod (not too big of a deal).

New sizes: replaced old bowls with NEW Light - semi-flat bottom 32 oz. bowls. New sizes are: 32", 29", 26" and 23" [new head sizes: #3500, #3108, #2808 and #2600].

New L-shaped Counterhoops - black finish. Ears cleaned up (and re-chromed).

New casters w/tilting mechanism (brass finish) on all drums.

Frames repainted with quasi-original Hinger BLACK and GOLD trim paint color. This looks nice!

All plastic sleeves in fine tuner guide and ears/tension rods (gaskets) replaced.
    
| Home | Latest News | Biography | Discography | Solo Repertoire | Reviews |
| Drums&Sticks | Online Lessons | Favorite Links | Audition Lists | Articles |
| Email | Job Openings | Items for Sale | Site Index | Guest Book |