Home
Latest News
Biography
Discography
Solo Repertoire
Reviews
Drums and Sticks
Online Lessons
Favorite Links
Audition Lists
Articles
Jobs
Instructional Videos
Repertoire Books
Timpani Mallets
Masterclasses/Clinics
Email

Walton: Partita for
Orchestra
Detroit Symphony Orchestra
Leonard Slatkin, Conductor
Bartok: Sonata for
Two Pianos and Percussion

Oliverio:
Timpani Concerto No. 1
(excerpt)
Holst:
The Planets
Detroit Symphony Orchestra
Peter Oundjian, Conductor
Copland:
Appalachian Spring
Detroit Symphony Orchestra
Leonard Slatkin, Conductor
Beethoven:
Piano Concerto No. 1
Conrad Tao
Detroit Symphony Orchestra
Leonard Slatkin, Conductor
October 11, 2013

Ferran Cruixent: Cyborg
Detroit Symphony Orchestra
Leonard Slatkin, Conductor
November 7, 2013
Indiana University
Percussion Ensemble
Youtube videos
Zildjian Score Magazine
John Tafoya

Arizona Musicfest
Orchestra
Archival recordings:
Robert Moody, Conductor


---
Click on the picture if a larger image is desired

Personal Set
Walter Light Mark XIVs
32", 29", 26", 23", 20" (chain)
---
Click HERE to see both my Hingers and Lights on the Kennedy Center stage.
---

Odds 'n Ends
25" and 28" Leedy Hand Screw Timpani
new photos

---

IU Timpani
Too many drums to mention. However, the Percussion Department
includes virtually all models of timpani currently used by major
symphony orchestras (Light, Adams, Ringer, Hinger, Yamaha, Ludwig,
etc.). Click HERE for a virtual tour of the IU Percussion Department's
instruments and facilities!

---
Mallets
CHECK OUT the NEW John Tafoya Signature Series timpani mallets HERE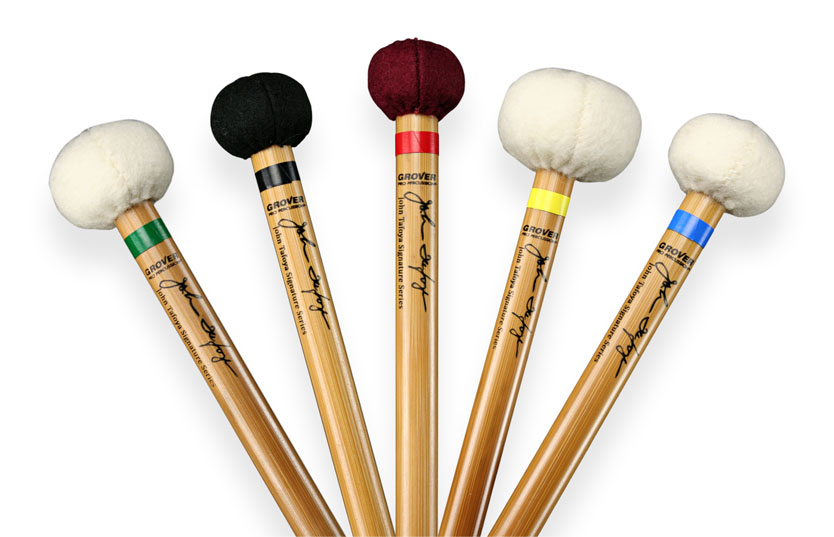 ---
Timpani Heads
  
For more information on Remo Inc., check out their website at: www.remo.com.
---