---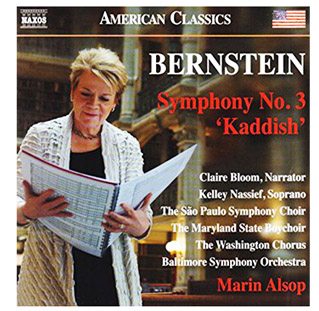 I was fortunate to serve as substitute principal timpanist for the Baltimore Symphony Orchestra in a recording of Bernstein: Symphony No. 3 "Kaddish" and also the recent album by the Detroit Symphony Orchestra that includes Copland: Appalachian Spring and Hear Ye! Hear Ye!
Older News
IU Jacobs School of Music
Summer Percussion Academy/Workshop
July 9-15, 2017 - Another Great Success!
More information on our summer event can be found at: http://music.indiana.edu/precollege/summer/percussion or check out our official Facebook page at: https://www.facebook.com/IU-Jacobs-School-of-Music-Summer-Percussion-Academy-128141840574377/?ref=br_rs
---
Special Grover/Tafoya Signature Timpani Mallet SPECIAL at Steve Weiss Music!

Check it out at: http://www.steveweissmusic.com/category/grover-tafoya-mallet-special
---
IU Jacobs School of Music Percussion Department's "Opening Night!"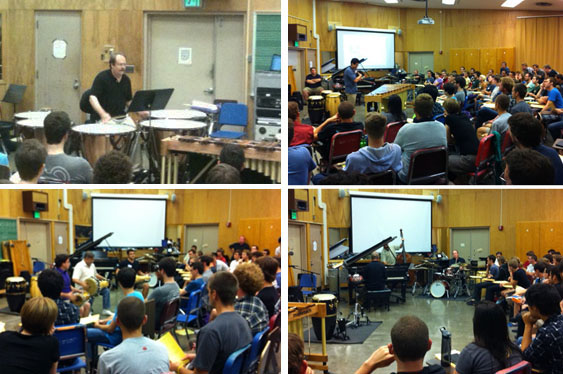 At the beginning of each school year the IU Percussion Department faculty meets with and performs for our percussion students. Our 60 percussion majors were treated to performances by Kevin Bobo, Steve Houghton, Michael Spiro, and John Tafoya. We also presented a slideshow of our recent "hard hat" tour of the New East Studio Faculty building. Be sure to catch our latest activities at our official website: http://music.indiana.edu/departments/academic/percussion
---
IU Percussion Ensemble: Dennis DeSantis: Shifty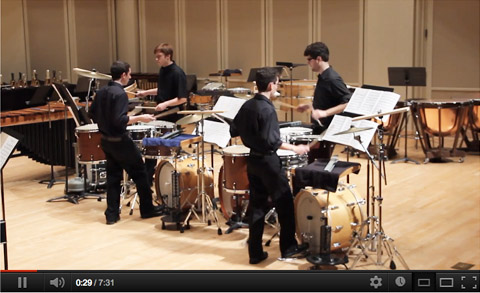 Check out a performance of the IU Percussion Ensemble (click on the above photo).
---
Penn High School Visit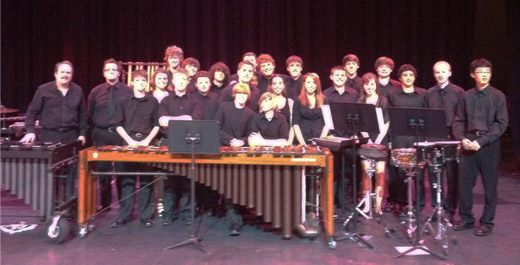 I had a great time working with the percussion students at Penn High School in Mishawaka, Indiana on March 14 and 15. On March 15 we performed "Colossus" by Eric Rodis. Special thanks to Glenn Northern, Bill Leather, and Jeff Perry.
---
Baltimore Symphony Orchestra!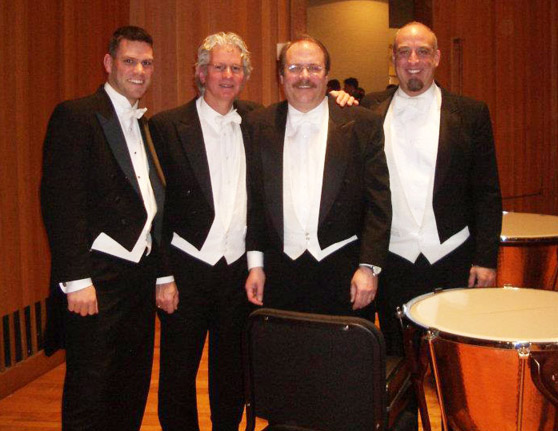 I had the pleasure of performing with the Baltimore Symphony Orchestra during the week of January 16 - playing Ravel: Bolero, Tchaikovsky: Piano Concerto, and Strauss: Also Sprach Zarathustra under the direction of Marin Alsop. Special thanks to Derek, John, and Brian (pictured above) -- I had a great time!
---
Sponsored by: Grover Pro Percussion, Remo, Inc., and Yamaha Corporation
Many thanks to ALL OF YOU who attended my clinic at PASIC!
Repertoire included: Barber Second Essay and Symphony No. 1, Bartok Music for Strings, Percussion, and Celeste, Beethoven Symphony No. 4 and 5, Brahms Piano Concerto and Symphony No. 1, Debussy La Mer, Dvorak New World Symphony, Mahler Symphony No. 1, Mozart Symphony No. 39, R. Korsakov Scheherazade, Shostakovich Symphony No. 11, Sibelius Finlandia and Symphonies 1 and 2, Stravinsky Firebird, Tchaikovsky Francesca di Rimini and Symphony No. 4
A BLAST from the PAST: Check out my previous PASIC adventures:
---
NEW Tafoya Timpani Signature Timpani Mallets Available through Grover Pro Percussion!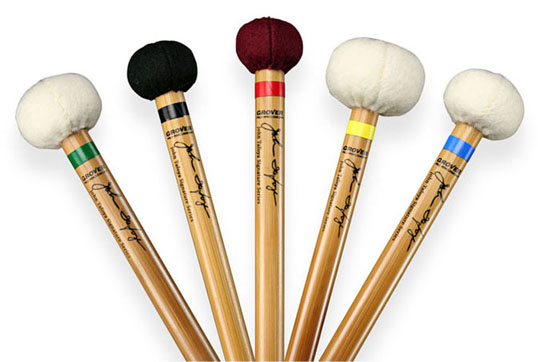 via the Grover Pro Percussion Website. Be sure to visit the Grover Pro Percussion Facebook site HERE. And BE SURE to CHECK THESE MALLETS out at PASIC! These mallets have been designed to deliver a clear sound over a huge dynamic range. The bamboo is excellent and each mallet contains a rounded wood core. A terrific mallet and PERFECT for auditions!
---
AND IF that isn't ENOUGH . . .(!) A NEW BOOK! Check it Out!!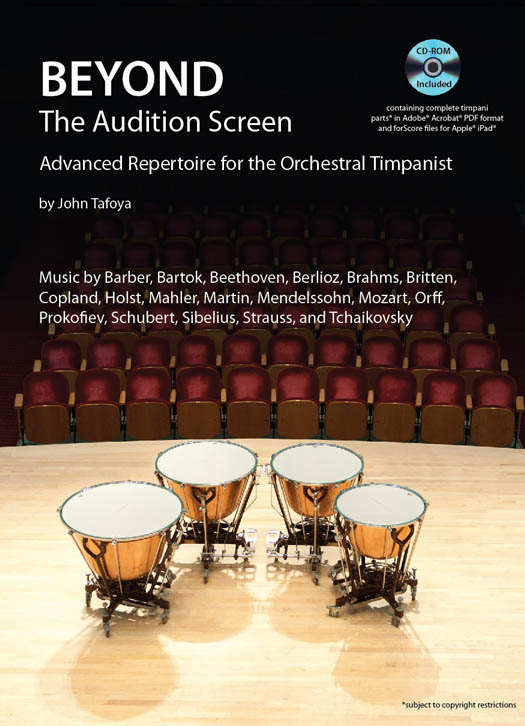 BEYOND The Audition Screen features 27 orchestral works currently requested at timpani auditions. The included CD-ROM contains the entire timpani parts (subject to copyright restrictions) in Adobe® Acrobat® PDF format for further study along with annotated forScore files for the Apple® iPad®.
Each page includes important items to consider in preparing each orchestral work. These observations are taken from John Tafoya's personal experience with orchestral timpani auditions and from his professional experiences in rehearsals and performances with world-renown conductors.
The reader will also enjoy a variety of musical and technical options presented in this book. Options include: edited dynamics, stickings, timpani mallet recommendations, illustrations, exercises, errata, extra notes, tempos, and an interesting section on timpani maintenance by Marshal E. Light, owner and manager of the American Drum Manufacturing Company.

"Expert advice from a true master. All of the information that John Tafoya has compiled, from the interpretation ideas to timpani maintenance, makes this a fantastic resource for the percussion community."
- Patrick Schleker, Principal Timpanist, Cincinnati Symphony Orchestra

"I find this book to be an excellent source for elevating one's musical awareness in performing the repertoire, which is the key to playing timpani."
- Mike Crusoe, Principal Timpanist, Seattle Symphony Orchestra
Beyond the Audition Screen is available through HAL LEONARD Corporation
---
NOI 2011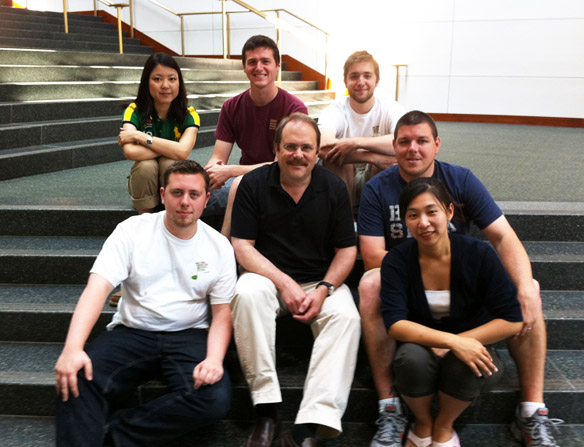 I had the pleasure of working with the super talented musicians of the National Orchestral Institute this week. They were featured in a terrific performance on Friday night, performing Brostrom: Twilight and Hall: Escape Velocity. Saturday night they will be performing Rudiger Pawassar's "Sculpture in Wood".
---
IU Percussion Ensemble In Action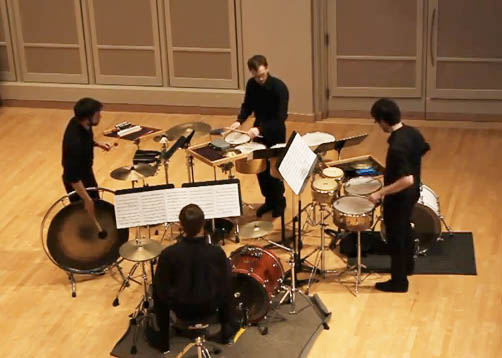 The IU Percussion Ensemble had a terrific concert season this year. Please check them out (click on the above photo).
---
FSU Visit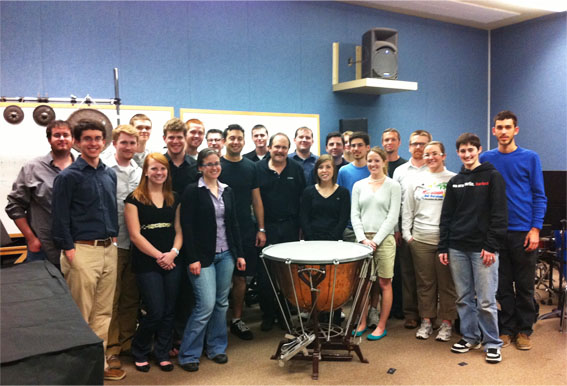 I had a terrific experience working with the percussion students at FSU in Tallahassee, Florida this past week. BRAVO to Professor John Parks and the percussion studio at FSU! My visit began with a rather crazy masterclass on Sunday evening (after I had been on the road for 7 hours) followed by lessons, a special Seminar (with awesome brownies) and a class in which we went through the process of putting on a new timpani head. Special thanks to Matt Jordan - I still owe you some money for meals . . .
---
Zildjian Score Magazine - Online
Check out the LATEST Zildjian Score Online Magazine Videos!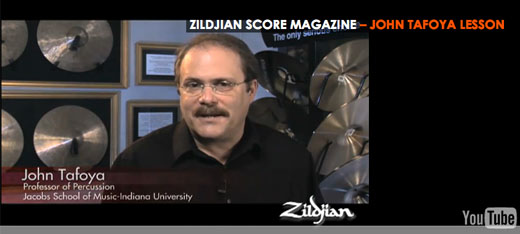 ---
Tafoya in Tennessee!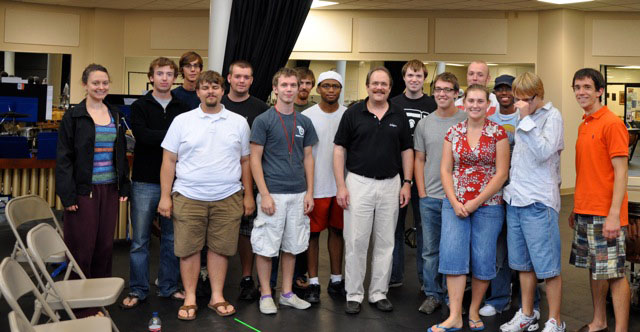 Photo: University of Tennessee at Martin (UTM)

I had a terrific time in Tennessee - visiting the Blair School of Music (Vanderbilt University), UTM, and the University of Evansville. Special thanks to Mr. Bill Wiggins (Blair), Julie Hill (UTM), and Bill Shaltis (UE)!
---
Houghton and Tafoya BURN IT UP on Santorini!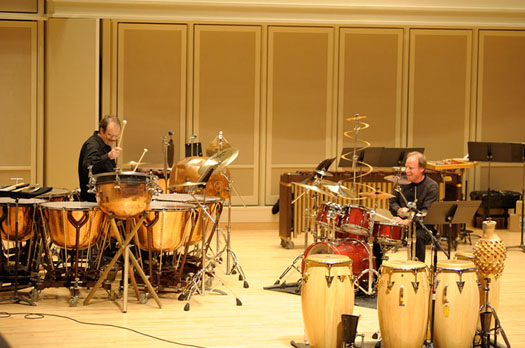 Steve Houghton and John Tafoya premiered "Santorini"- a duet for drum set and timpani by Steve Houghton. This piece was part of the IU Summer Percussion Academy/Workshop's Faculty Recital which took place Monday, July 19 in Auer Hall. Other performers included Kevin Bobo, John Kilkenny, Michael Spiro, and the Steve Houghton Jazz Trio.
---
IU Summer Percussion Academy and Workshop News
The World of Percussion Concert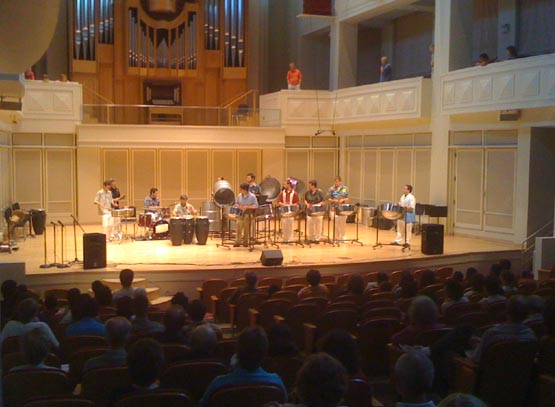 The IU Summer Percussion Academy/Workshop got off to a GREAT START this evening with "The World of Percussion" concert - featuring our counselors and staff performing solos and duets. The second half of the program featured Michael Spiro showcasing our Steel Pan, Afro-Cuban and Brazilian Ensembles.
For information on this summer event click HERE
The IU Summer Percussion Academy/Workshop faculty will be featured in a recital tomorrow (Monday, 7/19) evening at 7 pm in Auer Hall.
---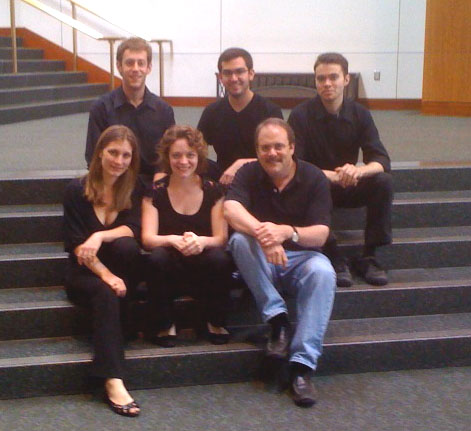 NOI Percussionists ROCK during
Chamber Music Week!
The National Orchestral Institute began its Chamber Music Week on May 31 which included 2 percussion chamber performances (Hollinden: The Whole Toy Laid Down and Hollo: Jose Before John 5 on Saturday, June 5 as well as Burritt: Doomsday Machine and Fitkin: Hook on Sunday June 6) at the Clarice Performing Arts Center on the campus of the University of Maryland's School of Music.

The NOI Percussionists were AWESOME this year! Performing the above repertoire at an incredibly high level!

[Pictured (left to right top row): Elliot, Nick, and Joe
(bottom row left to right): Karli, Katy, and Yours Truly].

Thanks for a TERRIFIC Week!!




---
Another Awesome Week at the Arizona MusicFest

I had the opportunity to perform as principal timpanist for the Arizona MusicFest Orchestra (Scottsdale, AZ) during the week of February 21st. The orchestra, under the direction of Robert Moody, performed 4 concerts (12 services!) and included orchestral musicians from major symphony orchestras.

---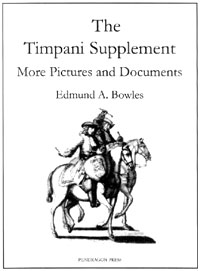 The Timpani Supplement
More Pictures and Documents
by Edmund A. Bowles
Timpani enthusiasts will WANT to pick up this book - which includes a few photos of my instruments as well!
Order it HERE on Amazon.com.

---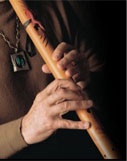 Check out John Tafoya's Native American Percussion Debut(!)
Be sure to check out David Patterson's work, "Beaver Moon" -- taken from a recent recording session with Native American Flutist James Pellerite.
Click HERE to listen to this recording.

---
Tafoya's Drums featured on Wikipedia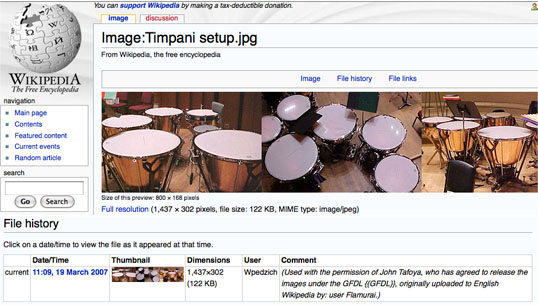 Click HERE to view the Wikipedia Timpani webpage.

---
From Meredith Music Publications!
THE DRUM AND PERCUSSION COOKBOOK:
CREATIVE RECIPES FOR PLAYERS AND TEACHERS
edited by Rick Mattingly
ISBN 978-1-57463-101-2
This valuable collection of quick-to-read yet deeply insightful strategies is like finding expert trade secrets all placed in one easy, quick-to-read source. Contributors to the book were even eager to get a look at each other's ideas! With outstanding records of performance, workshop clinics, recordings, research, composition, leadership, and teaching, the 57 authors provide their favorite "recipes" that cover an extreme range of topics from rudiments to rock, drum set to symphonic playing and keyboard percussion to interpretation.
Contributing authors include: Kenny Aronoff, Anders Astrand, John H. Beck, Michael Burritt, Bill Cahn, James Campbell, Anthony Cirone, Christopher Deane, Robin Engelman, Peter Erskine, Mark Ford, Danny Gottlieb, Gordon Gottlieb, Neil Grover, Rich Holly, Steve Houghton, Glenn Kotche, William Moersch, Jeff Moore, Al Payson, Michael Rosen, Ed Saindon, Dave Samuels, Ed Shaughnessy, Ed Soph, John Tafoya, Garwood Whaley, She-e Wu, and MANY OTHERS!!!
For more information go to: http://www.meredithmusic.com/ and click on "What's New!"

---
Teflon Tape
A few people have Emailed me recently inquiring about teflon tape - primarly where to purchase it. The teflon tape used on the lip of timpani bowls (to act as a lubricant between the bowl lip and the head) is not the same kind of teflon tape you'll find at your local hardware store.

Here are a couple places that carry teflon tape: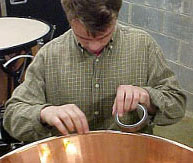 Mr. Marshall E. Light
American Drum Manufacturing Co.
P.O. Box 40403
Denver, CO 80204
-highly recommended
Lefima (USA) now has a kit available w/ Teflon Tape, Teflon Aerosol Spray, Grease & Grease Gun for grease fittings. Also available separately. Prices on request. Contact Everett M. Beale, U.S. Agent. Tel/Fax: 978-649-7685
web: www.lefima-usa.com.
---

Click HERE for previous "latest news" items (archives).