Beyond The Audition Screen
Advanced Repertoire for the Orchestral Timpanist
By John Tafoya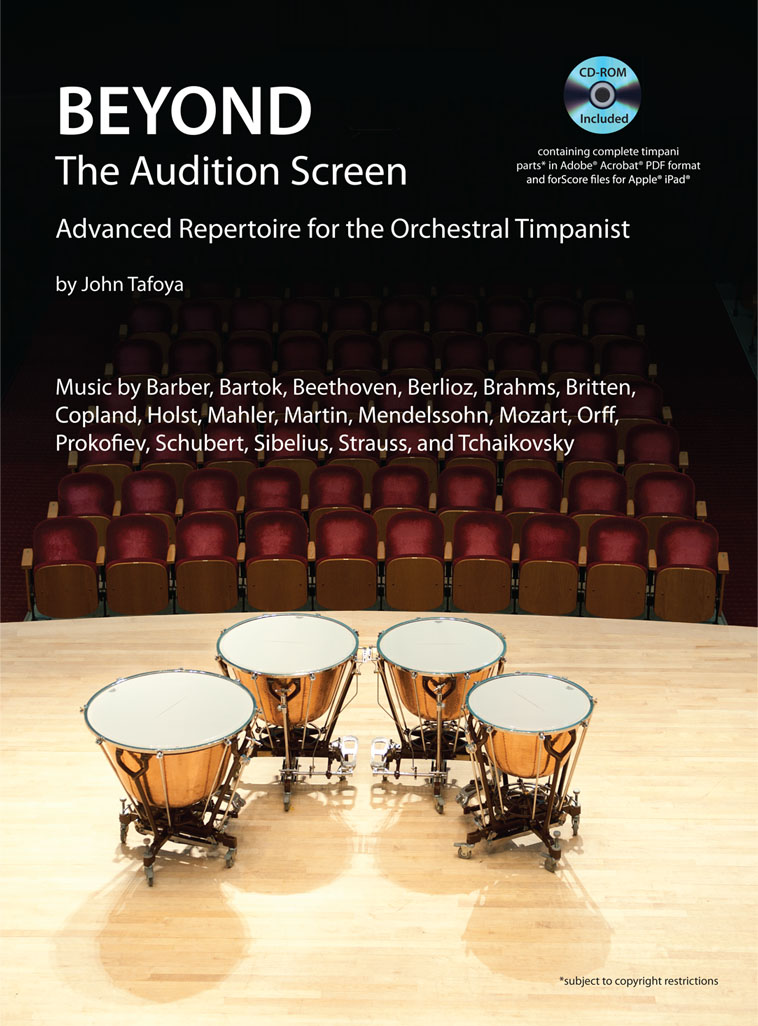 Beyond The Audition Screen features 27 of commonly requested orchestral timpani audition repertoire. This book also includes a CD-ROM containing the entire timpani parts* in Adobe® Acrobat® PDF format for further study along with detailed and annotated forScore files for Apple® iPad®.
FOR MORE INFORMATION on forScore for the Apple® iPad® (including screen shots) check out: http://itunes.apple.com/us/app/forscore/id363738376?mt=8. This is a very interesting app!
Each page includes important items to consider in preparing each orchestral work. These observations are taken from over 20 years of personal experience with orchestral timpani auditions and from my professional experience in rehearsals and performances with world-renowned conductors.
The reader will also enjoy the variety of musical descriptions and technical options in this book. Options include: edited dynamics, timpani mallet recommendations, stickings, illustrations, exercises, errata, extra notes, tempos, and an interesting section on timpani maintenance by Marshall E. Light, owner and manager of the American Drum Manufacturing Company.
Repertoire:
Mozart: Overture to the Magic Flute
Mozart: Symphony No. 41
Beethoven: Violin Concerto
Beethoven: Piano Concerto No. 5, "Emperor"
Schubert: Symphony No. 9
Mendelssohn: Symphony No. 4
Brahms: Concerto No. 1 for Piano and Orchestra
Berlioz: Symphonie Fantastique
Tchaikovsky: Symphony No. 5
Strauss: Don Juan
Strauss: Der Rosenkavalier Suite
Prokofiev: Classical Symphony
Prokofiev: Symphony No. 6
Mahler: Symphony No. 1
Mahler: Symphony No. 2
Mahler: Symphony No. 7
Holst: The Planets
Copland: Appalachian Spring
Sibelius: Finlandia
Sibelius: Symphony No. 1
Bartok: Piano Concerto No. 2
Bartok: Violin Concerto No. 2
Martin: Concerto for 7 Winds, Timpani, Percussion and Strings
Orff: Carmina Burana
Barber: Second Essay
Barber: Medea's Meditation and Dance of Vengeance
Britten: The Young Person's Guide to the Orchestra

"Expert advice from a true master. All of the information that John Tafoya has compiled, from the interpretation ideas to timpani maintenance, make this a fantastic resource for the percussion community."
- Patrick Schleker, Principal Timpanist, Cincinnati Symphony Orchestra

"I find this book to be an excellent source for elevating one's musical awareness in performing the repertoire, which is the key to playing timpani."
- Mike Crusoe, Principal Timpanist, Seattle Symphony Orchestra

"Subtitled "Advanced Repertoire for the Orchestral Timpanist," this sequel to The Working Timpanist's Survival Guide provides an in-depth look at 27 of the most frequently required orchestral timpani excerpts, giving detailed musical descriptions and technical options for each. Tafoya's experience and knowledge make this a great tool for anyone studying orchestral timpani repertoire.
Each excerpt is accompanied by the following information: where it is found within the music, recommended tempo, general style, recommended mallets, im- portant considerations, and recommen- dations relating to articulation, sticking, phrasing, dynamics, and errata. In some cases, photos are included to provide the reader with the recommended playing position, or mute position. Three appendices include recommended recordings for each excerpt, an up-to-date list of orchestral timpani audition repertoire, and timpani maintenance tips. The book also includes a CD containing complete timpani parts (in pdf format) and forScore files.
Thanks so much to John Tafoya for providing the percussion world with another vital source for orchestral timpani excerpts."
- T. Adam Blackstock
Percussive Notes Magazine, July 2012
This book is also NOW AVAILABLE for purchase at Percussion Source. Order Today!
Email me for more information.